Country House Giardini di margius, near Sperlonga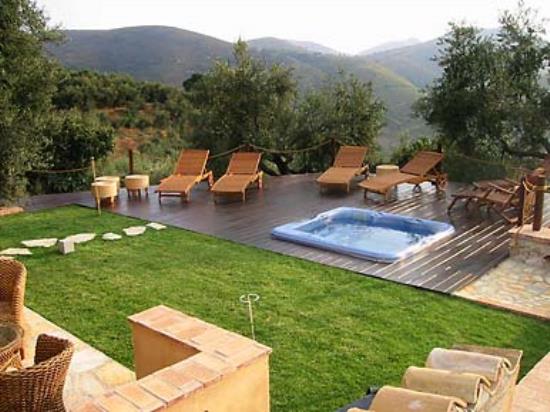 Description
to "The Margius Gardens" website. Agritourism was born from our wish to create an environment free of today's conformism, and our desire to offer privacy as a luxury.

Art, nature, sea, culture and fitness are the backdrop for your relaxing stay with us. Lovers of nightlife will appreciate the many opportunities available to them at numerous night clubs along the coast.
Our 17 hectare farm is solely dedicated to growing olives and breeding poultry. We are located in the center of many interesting and famous tourist destinations.
"The Margius Gardens " are situated between the lower Latium Tyrrhenian Coast and the Aurunci Mountains , surrounded by numerous scenic hills and valleys.
Our land is divided into terraces, which are typical of this area.
Charming paths through the country side are perfect for long walks with beautiful views of the sea.
A complimentary cocktail by the pool will be awaiting you at the end of the day's journey.
We offer six two-person bungalows to our clients, each with all the comforts you will need, conditioned air hot and cold, bathroom, minibar and hi-fi to enjoy a restful and relaxing holiday.

The valuable wooden bungalows are scattered throughout the farm, each equipped with an external veranda.
The Margius Gardens are located just a few kilometers from the town of Itri in the low Latium Mountains of the Latina district. We sit in a gorge between the south-east slopes of the Aurunci mountains just off the Appia Road about halfway between Rome and Naples . The town of Itri is well-known for being the birthplace of the famous brigand Fra Diavolo in 1771.

Our farm is well positioned for visits to numerous tourist destinations along the south Latium coast.



Services


• Rooms
• TV-Sat
• Air conditioned
• Pets accepted
• Reservation for Horse escurtions
• Reservation for massages
• Birthday Party organizzation also in Pool
• Swimming Pool with hydromassage
• Wellfare Zone
• Barbecue
• Cocktail Area
• Laundry
• Relaxation Area
• Solarium
• Bar
• Fireplace
• Home Theatre
• Reading Area
• Breakfast with all natural products
• Shuttle Service to and from Formia
• Itri and Fondi Train Stations
• as well as to and from the seaside
• Event Organization

Attractions


• Port of Formia (Ferries for isles Ponza - Ventotene - Ischia) Km 6
• Gaeta Km 9
• Sperlonga Km 10

---

Activities


• Riding horses
• Trekking
• Excursion Itineraries
• Fishing
• Canoe
• Mountain
• Sail
• Sea
• Tennis

How to reach it


The town of Itri is located about 130 kilometers from Rome. It takes approximately an hour and half to drive to the farm from Rome.

Driving Options:
From Rome take SS 148, Pontina Road . When you arrive in Terracina, take SS 7, Appia Road , in the direction of Fondi. Continue until you arrive in the town of Itri . As an alternative it is also possible to take the Appia Road (SS 7) from the town of Latina , running along the "straight stretch" as far as Terracina.
About 10 kilometers after you pass through the town of Fondi, just before entering the center of Itri, you will see a cemetery on your right, at this point you will turn left. You will travel straight on this road, the road will become narrow, and you will drive an additional 3.3 kilometers from the point at which the road narrows. You will come upon a crossroad; you will turn right at this crossroad. "The Margius Gardens " are located about 600 meters from this intersection.

From Rome take the A2 autostrada in the direction of Naples from the highway you can take any of the following exits:

- Frosinone: Take this exit following signs to Latina . After about 10 kilometers you take the highway to Terracina, where you can get onto Appia Road (SS 7) all the way to Itri. (Fast Solution)
About 10 kilometers after you pass through the town of Fondi, just before entering the center of Itri, you will see a cemetery on your right, at this point you will turn left. You will travel straight on this road, the road will become narrow, and you will drive an additional 3.3 kilometers from the point at which the road narrows. You will come upon a cross road, you will turn right at this crossroad. "The Margius Gardens " are located about 600 meters from this intersection.

- Ceprano: From this exit you take SS 82 to San Giovanni Incarico, Pico and then Itri. (This is a winding through small Italian villages and woods. Just before arriving in Itri you can enjoy a panoramic view from Terracina to Gaeta .)
About 10 kilometers after you pass through the town of Fondi, just before entering the center of Itri, you will see a cemetery on your right, at this point you will turn left. You will travel straight on this road, the road will become narrow, and you will drive an additional 3.3 kilometers from the point at which the road narrows. You will come upon a crossroad; you will turn right at this crossroad. "The Margius Gardens " are located about 600 meters from this intersection.

- Cassino : Immediately after the toll gate you turn right onto the road headed to Formia. Once you arrive in Formia you follow the SS 7 road as far as the town of Itri . (Easy Solution) Before you arrive in the center of Itri
About 1.5 kilometers past the center of Itri, you will see a cemetery on your left, at this point you will turn right. You will travel straight on this road, the road will become narrow, and you will drive an additional 3.3 kilometers from the point at which the road narrows. You will come upon a crossroad; you will turn right at this crossroad. "The Margius Gardens " are located about 600 meters from this intersection.

ITRI is situated abuot 90Kilometers north of Naples. It is approximately at 70 minute drive from Naples to "The Margius Garden".

1. Take the Domitiana Road from Naples to Formia. Once you arrive in Formia you take the SS 7 Appia Road to Itri.
About 1.5 kilometers past the center of Itri, you will see a cemetery on your left, at this point you will turn right. You will travel straight on this road, the road will become narrow, and you will drive an additional 3.3 kilometers from the point at which the road narrows. You will come upon a crossroad; you will turn right at this crossroad. "The Margius Gardens " are located about 600 meters from this intersection.
2. Take the A2 autostrada in the direction of Rome . Take the Cassino exit, pass through the toll gate and turn immediately to the right, towards Formia. Once you arrive in Formia you follow the SS 7 road as far as the town of Itri.
About 1.5 kilometers past the center of Itri, you will see a cemetery on your left, at this point you will turn right. You will travel straight on this road, the road will become narrow, and you will drive an additional 3.3 kilometers from the point at which the road narrows. You will come upon a crossroad; you will turn right at this crossroad. "The Margius Gardens " are located about 600 meters from this intersection.

TRAIN SOLUTION.
You can also arrive by train. If you choose this option we provide a free shuttle service from the train stations of Formia, Itri or Fondi.

Prezzi

Low season

€

80

Mean season

€

80

Hig season

€

100

Look the lastminutes


No Last Minute !
Add to your wishes list


Crea una lista delle tue strutture preferite

INFO
Pictures Gallery
Click to enlarge